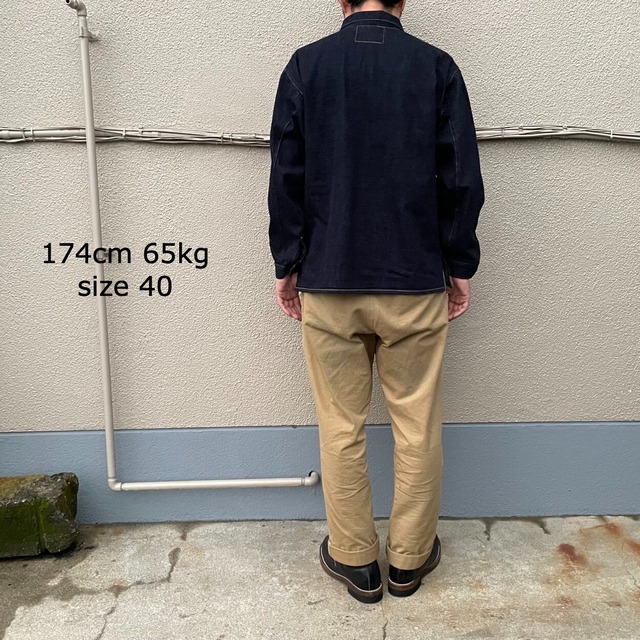 "Lot 504 XX 1900" CROSED FRONT JUMPER / FREEWHEELERS / フリーホイーラーズ / THE VANISHING WEST / RIVETED WORK CLOTHING
*Earliest delivery date is 10/7(Sat) (may require more days depending on delivery address).
Japan domestic shipping fees for purchases over ¥8,000 will be free.
Shipping fee is not included. More information.
デニムジャケットの歴史の上で1stモデルの誕生の前、1800年代から1915年にかけてアメリカの労働者が着用していたデニムワークウエア。
クローズド・フロント・ジャンパー(プルオーバータイプ)のゆったりとしたジャケットは12.5ozのオリジナルのインディゴデニムで作られています。大きめなのに加え肩が落ちるタイプで、ラフなシルエットとなります。
下がラウンドしているポケット、裾の切れ込み、大きく開いた襟、各々がリベット(一つ一つ手作業で頭を潰しています)で補強されており、シンプルでありながら過酷な労働に耐えうる非常に面白いジャケットです。
写真は「40」を着用していますが、ジャストで「38」も着用できます。冬に着込む場合には「40」、中にTシャツ1枚程度であれば「38」といったところです。
メーカーWASH品
Add to Like via app
Reviews

(12)

Shipping method / fee

Payment method